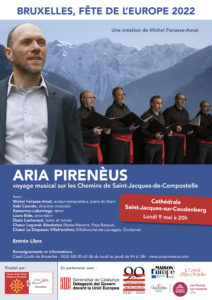 The program of about twenty pieces is interpreted by Michel Fenasse-Amat accompanied by a choir and an orchestral ensemble.
Since the public premiere at the Ostal d'Occitània in Toulouse (House of the Occitan Region) in October 2015 and the release of their self-titled album Aria Pirenèus (Agorila label) in 2016, Michel Fenasse-Amat's pyrenean musical creation has been presented in various programmes such as the "Festival de la Cathédrale de Narbonne", the "Scène de Foix", and the "Festival Déodat de Séverac", a tour greeted with acclaim by the press in august 2018 in the french Basque Country, with a finale in the courtyard of the Château de Pau.
Aria Pirenèus was programmed in the Toulouse event « 2018 the year of Occitania – Tolosa Occitana », then in Spain in June 2019 at the Castle of Loarre (Province of Huesca) programmed by the Autonomous Community of Aragon, and in September 2019 in the Courtyard of the Château Comtal of the City of Carcassonne (programmed by the Monuments de France).
From October 2020 to May 2022, Artistic residencies at the Ospitalea of Irrisarry (Commandary, 17th Century – property of the Departement des Pyrénées Atlantiques), Shrine of the way of Compostella in the Basque Country.
These artistic residencies at the Ospitalea of Irrisarry wil allow to continue to develop the works of Aria Pirenèus, particularly by bringing together choir members and instrumentalists from the Basque Country and the department of the Pyrénées Atlantiques.